How to Take off Lash Extension at Home
Eyelash extensions are a beauty accessory that more and more women are choosing to wear. Enhance, lengthen, and intensify the look with just using eyelash extensions, is the resource of many to stand out wherever they go. However, some want to know how to remove them easily and painlessly at home. Here at Makeup Artist Pro, we will teach you how to take off lash extensions at home.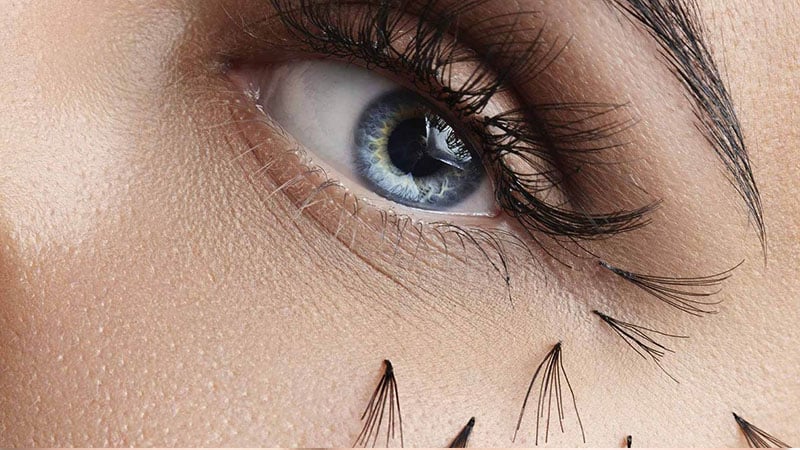 Eyelash Extensions
It is a beauty treatment that lengthens the eyelashes, giving you a more attractive look. There are several types of extensions, such as natural hair or completely synthetic, you can also find them strand by strand. These last ones require continuous maintenance, to keep a good result, because, as your own eyelashes grow, they push the extensions. For this reason, many women prefer to remove them and show off their natural eyelashes.
Also read: How Long do Eyelash Extentions Last?
How to Remove Lash Extensions at Home
If you want to take off your lash extensions at home and not bother with having to make a reservation at a professional beauty salon, there are many ways for you to do so:
Eyelash make-up remover
One of the easiest ways to remove your eyelash extensions is by using make-up removal products. However, the effectiveness of this method will increase or decrease depending on the type of extensions you have.
To do so, you must follow these steps:
Take a cotton pad with enough make-up remover and wipe it over your eyelashes so that they are wet.
Then carefully pull the extensions out gently. This way they will gradually come off.
If you feel any burning or a little pain when removing them, you should moisten them a little more, so that the process is smoother and easier to remove.
Take Off Your Lash Extensions with Baby Oil
This is one of the most effective home tricks for removing eyelash extensions. All you have to do is change your makeup remover for baby oil. Remember to generously wet your eyelashes with the product, to remove them more easily. When you do it with baby oil, unlike with makeup remover, you will hydrate your natural hair and the artificial hair will easily fall out of your hair root.
It is important to note that when using baby oil you have to emphasize the root of your eyelashes. Since what you want to achieve with this method, is to soften the glue that is used on some occasions and for the eyelash extension to come off smoothly.
Also read: Lash Extensions Aftercare
Remove Your Lash Extensions with Vaseline
Using Vaseline to remove your eyelash extensions is another effective home method. To remove your eyelashes at home with Vaseline you must:
Don't let it dry out: Vaseline is a product that is sometimes used as a natural glue for eyelash extensions, so if you want to remove them using Vaseline, you must remove the eyelashes immediately after applying the Vaseline.
Apply with swabs: by doing so you will apply more directly to the hair and the extension you plan to remove.
Clean your face in advance: when doing this method with Vaseline, you should thoroughly clean your face and the area around your eyes, which will allow you to remove the extensions more easily.
How to Take Off the Lash Extension Glue?
Eyelash Extension glue is a fairly strong product, so it is difficult to remove. This is a fact that many people get a hard time just thinking about removing it. For this reason, it is usually recommended to remove it in beauty salons.
But, we never lack home methods and we can use them to remove the glue from our eyelash extensions. Follow the steps below:
With make-up remover: first of all, you must know where your natural lashes end, this knowledge is fundamental. Then, with a little make-up remover remove the mascara from them, to start removing them.
Facial steam bath: for this, you will have to prepare your facial bath. To do it is very easy. Put water to boil in a pot and once it boils add essential oils such as lavender, eucalyptus, or mint. This aromatic touch will help make the treatment more pleasant and enjoyable. Then, place your face on the pot, at a safe distance that your skin (and nostrils) can bear, and cover your head with a towel. You will have to let the steam do its work for about ten to fifteen minutes. This way the eyelash glue will soften and it will be very easy to remove.
Olive oil: this step will allow your eyelash extensions to be removed without any pain. To do this, you must take a cotton ball and wet it with olive oil and gently wipe it around the eye and eyelashes. Don't forget the roots and prevent some of the product from falling into your eyes. Apply the product to all the eyelashes until they are removed.
Clean Your Face
Once this practical and easy method of extracting your eyelashes is done, the final step is to clean your skin. Use a gentle facial cleanser, which removes excess oil from the face, and finally, rinse your face with warm water.
Latest Advice
Annual rest: if you are a false eyelash lover, you should know that it is recommended to take a rest of approximately one month and a half, annually. So that you don't weaken your natural hair.
Do not pull out the extensions: you should never pull out your eyelash extensions. It is best to wait until they soften and fall out by themselves. If you do pull them out, you could damage your eye and hair.
False eyelashes are very comfortable to wear and as you may have noticed, they are also easy to remove if you wish to do so. So if you are one of those women who had not dared to use them, because you thought it was a very complicated process, forget it! And cheer up to wear them in your day-to-day life.