How to apply eyeliner for cat eyes
Eyeliner is a must-have makeup item in your cosmetic bag. It's a simple way to frame and bring life to your eyes and there are many styles to suit different eye shapes. Among these styles, the cat eyes with black eyeliner is a classic in the great encyclopedia of makeup.
Celebrities like Ariana Grande, have embraced the cat eyes as her signature look. Despite your level of expertise with eyeliner, and the presentation of the same, here at Makeup Artist Pro, we tell you how to make a cat eye with your favorite eyeliner.
How to do the Cat Eyes with Eyeliner?
The famous cat eye is characterized by starting as a normal eyeliner and ending with a wing at the end of your eyelid. The thickness and length of the wing imitate the shape of the beautiful eyes of a cat, hence its name.
A useful trick to do this eyeliner is that you use a piece of tape and place it at approximately a 45-degree angle, at the beginning of your upper lash line. This will guarantee that the line or rather the wing is perfectly directed upwards, and not too low or too horizontal, which is the kind of error that usually occurs with this eyeliner style.
After this, we can get down to business. Take your eyeliner and draw the line along the edge of the tape. This line should look like a continuation of your last eyelash and should rise with a delicate and precise movement towards the outer edge of your eyebrow.
Pay attention to the inside and outside corners. You should line up the edge of your upper eyelid so that the line joins at the outer corner with the edge of your lower eyelid. Always keeping close to the root of your eyelashes.
The next step is to draw the wing, which you must adapt to your eye type, thicker, smaller, or blurred all depend on the shape of your eye and the style you want to use.
Useful Tips for the Perfect Cat Eye Eyeliner
Pick a good eyeliner
You can find eyeliners in the market in various presentations, in pencil, cream, powder, or gel. But to make a Cat Eyes Eyeliner we suggest you use liquid or gel eyeliners, as they have a better finish. You can also buy long-lasting or waterproof eyeliners so that your makeup lasts as long as possible.
Always prepare your face
Just as a wardrobe without a black dress is not a wardrobe, eyeliner without preparing the face is a big mistake. In all makeup, even if it is a simple eyeliner, you must pay attention to the preparation of your skin before applying any makeup.
So wash your face preferably with face soap or with micellar water and remove any residue of makeup and impurities. Then, with your face already dry, apply products to moisturize your eye area. This step will give you a good canvas to apply the eyeliner and you will take care of your skin to the maximum.
Draw fine lines
It is very common to cover an irregular line with another line above it. But if you tend to make thick lines from the first moment, it will be much more difficult to correct your mistake.
Practice, practice, practice!
Practice makes perfect and that is a proven fact. So no matter how much of a surgeon's pulse you have, you must practice constantly so that the lines come out naturally.
Mascara
Eyeliner and mascara have to coexist in the same world. After applying eyeliner, apply mascara to highlight your look.
Cat Eyes According to the Shape of Your Eye
As much as we would like to, makeup is not a one size fits all. The case of the cat-eyes is the same. Although the basic technique is the same, the thickness of the line and the length of the wing should vary according to the shape of each eye.
For wide set eye
The cat's eye liner's characteristic wing can widen the distance in your eyes. Therefore, in this case, we won't do this. Hence, you should minimize the effect by making a short wing, pointing upwards.
For close set eyes
In this case, make the line more stylized, lengthening it and making it a little more horizontal. This way, you will enlarge the shape of your eye.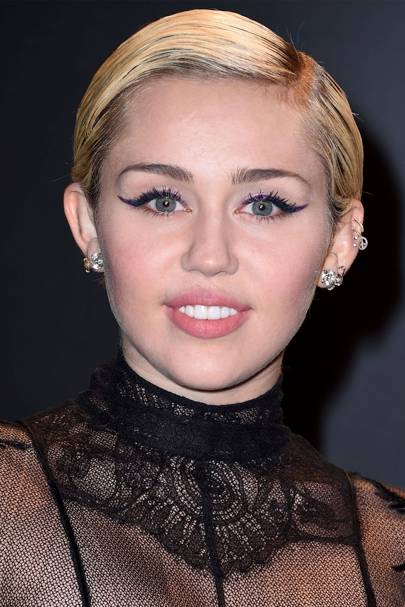 For small eyes
The secret of a good cat eyes eyeliner for this form of eyes, is to blur a little the line of the eyeliner. If you make the line defined, you make them smaller.
For hooded eyes
a thick line is a solution. As this kind of eyes has hooded eyelids, if you make a thin line it won't be appreciated when your eyes are open. Another trick is to apply the eyeliner with your eyes open. This way you know where to draw the line so that the eyeliner is visible with your eyes open.
Also read: Eyeliner Tricks and Tips for Hooded Eyes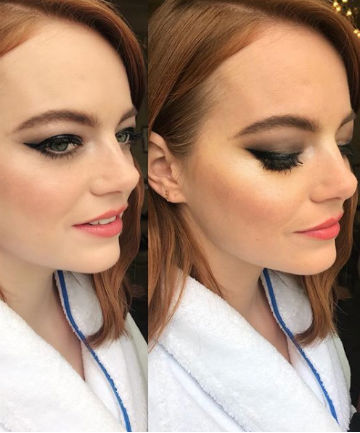 For downturned eyes
These eyes tend to slope at the outer corners. So, to give them a more rounded shape, you should keep the eyeliner thicker in the middle of the eye and the wing shorter than other cat eye styles.
Also read: Eyeliner for Downturned Eyes
For upturned eyes
This eye shape has a slight elevation at the outer corners. This makes it an ideal shape for the Cat Eyes Eyeliner. So just follow the natural shape of your eyes and work it out towards the temple.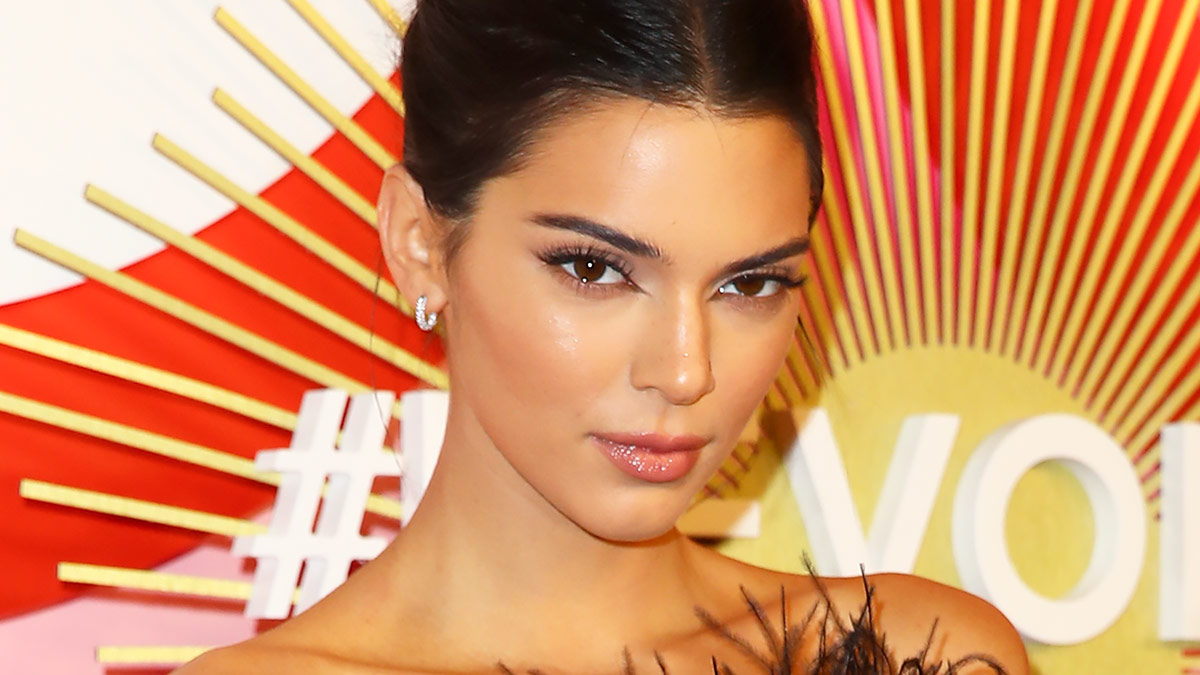 For almond eyes
This eye shape is perfect for any eyeliner style. We recommend applying a thick line, ending with a semi-dramatic wing, to accentuate your almond shape and give the appearance of larger, longer eyes.
Cat Eyes is an eyeliner style that everyone can achieve and wear. So don't hold back and look your best.