Eyeliner for Big Eyes, How to do it properly
Large eyes are very expressive and lovely, makeup artists love to makeup big eyes, especially with eyeliner. This cosmetic item provides the perfect framing for your expressive eyes. But what is the correct eyeliner technique for big eyes? In Makeup Artist Pro, we will tell you how you can perfectly apply eyeliner for your big eyes, what types of eyeliner styles work best for you, and some tips that will help you get the most out of your beautiful eyes.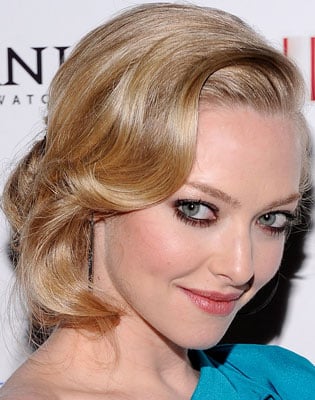 Eyeliner Styles for Big Eyes
Big eyes are common among celebrities. Emma Stone, Lucy Hale, Angelina Jolie, and many others have this type of eyes and highlighted them with stunning eyeliner. What styles of eyeliner will help you look great on every occasion? Read on.
Also read: How to apply eyeliner for monolid eyes, full tutorial
Cat Eyes
One of the most feminine and sensual eyeliner styles we can wear. A classic in the book of eyeliners. It helps define the eye shape, and you can do it with both thin or thick lines. The line for this eyeliner should be well marked and as close to the eyelashes as possible. The goal is to give your eye a "cat-eye" shape, not to make them look bigger, so start from the teardrop to the outside.
Apply the eyeliner with a small brush in the upper waterline and blur the classic cat line to conclude with a more professional finish.
Bottom Eyeliner
When you have big eyes, your goal when applying makeup is not to make them bigger, but to highlight the contour of your eyes. For this, the lower eyeliner is perfect since it defines well the shape of the eyes. You can use different eyeliner colors and presentations, but we recommend you to use a pencil or gel eyeliner for a more dramatic effect.
To do this you must apply color to the waterline of the lower eyelid, then proceed to outline the rest of the lower eyelid by tracing the line near the eyelashes. Finally, blur the line with a beveled brush and with short and smooth movements.
White Eyeliner
For a young and fresh look, white eyeliner is ideal. With white eyeliner (or any light-colored eyeliner), you'll open up your look and give it a touch of light. When you've had a long night, you haven't slept enough, and you want to hide it, apply it to the inner corners of your eyes to conceal the tired look.
Celebrities such as Kylie Jenner, Dua Lipa, or Katie Perry have looked fantastic. Of course, don't abuse the white eyeliner! The reason is that since your eyes are already large, making them larger with white eyeliner will change the proportions of your face, something we don't want.
Eyeliner in Vibrant Colors
The colored eyeliners will give your big eyes an incredible look. Color is always welcome, whether it is pink, green, lilac, or purple, the possibilities are vast, as long as you take advantage of it. With this kind of eyeliner, you can dare to combine two colors or draw a darker line close to the eyelashes to gain depth.
To do this, you can mark only the sides of the eyes or the teardrop or simply make a traditional line. However, you can increase the difficulty level by delineating the cut crease, although you can choose to get a thick, extravagant Cat Eyes.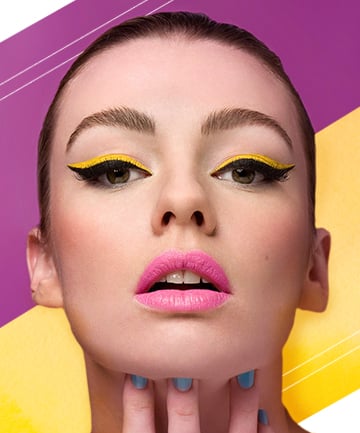 Tips to Achieve the Perfect Eyeliner
To define the look with eyeliner may seem like a challenge, but by following and practicing the proper guidelines it will become easier over time. So when it comes to applying eyeliner to your big eyes, remember:
Eyelid Primer: Preparing the skin of your eyes before eyeliner is a basic step. By applying a pre-base and some moisturizing product, you will have a fantastic canvas to start eyelining.
Use two mirrors: one large mirror in front of you will allow you to correct any detail in your eyeliner and to see if both eyes appear to be the same, and the second small hand mirror will help you see your eyeliner in detail.
If you have a shaky pulse: rest your elbows on a flat base that gives you stability so that your strokes are perfectly controlled.
Mascara: mascara on your lashes will give more expression to your look by increasing the volume of your lashes.
Ideal Makeup Tips for Large Eyes
Eyeliner is just the first step to highlight your beautiful big eyes, follow these makeup tricks, which also make your eye shape look amazing.
Also read: Eyeliner Tips for Almond Eyes
Dark Eyeshadows
Dark shadows go very well with large eyes, as they hide their size a little. But don't limit yourself to just using black, smoky colors in brown tones and the like, they will do very well. To apply this technique you will need at least two colors, applying the lighter shade on the mobile eyelid and the darker shade to the outside of your eye. The ones with a matte finish are the most flattering for you.
Illuminator
The illuminator brings light to the dark areas of your face and highlights the most attractive areas of your face. When using Illuminator, you cannot miss a touch on the outside of the tear duct, between the eyebrows, and a little on each temple.
However, you must be careful, using it too much will make your eyes look too big and we don't want them to look disproportionate to the rest of your face. The same happens when using under-eye concealer, by applying a good amount of the product on the lower part of the eye, it will make your eyes look bigger.
Conclusion
Big eyes are beautiful so you shouldn't be self-conscious and show them off as much as you can. By drawing flattering lines to your eyes, you will always be able to highlight and achieve a striking and captivating look. So dare to experiment and innovate in your makeup style.